Details about your Smart Inbound website.
Your website is hosted by Smart Inbound on the FlyWheel platform. FlyWheel is a top WordPress hosting provider with excellent speed, security, and support. You will use your portal below to set up your monthly billing:
Billing URL: https://smartinbound.sitesandservices.com/
Access: Create credentials via the FlyWheel email you receive on launch.
You may also want access to your hosting dashboard. Here you can download backups, flush the cache, and reach FlyWheel support directly. Please note that Smart Inbound will bill to fix any issues created by changing your hosting settings. Be careful. can also be deleted here without recovery.
Hosting Dashboard URL: https://getflywheel.com/
Access: Create credentials via the FlyWheel email you receive after requesting dashboard access.
Your domain is managed at the site it was originally purchased, unless you have specifically transferred it. Your domain uses nameservers that point to a series of DNS records. DNS records tell a computer what to do each time the domain is used (like typing it into a browser or using it as an email address). By default, Smart Inbound will only modify the "@" record of your domain, which will point to the new website. 
SFTP is where you can add, delete, and edit website files directly. For instance, you may use SFTP to delete a plugin that has disabled your site completely.
Developers may request SFTP access to your website. Only give this information to individuals and companies that you trust. Irreversible damage can be done through SFTP.
Software Access Option: FileZilla
Mode: SFTP (not regular FTP)
Host: sftp.flywheelsites.com
Port: 22
Access: request an SFTP login from Smart Inbound
Your website is built on the WordPress platform. Smart Inbound also has a separate administrative user to access your WordPress site. You will use WordPress to:
Make website changes
Post blogs
Add new users
Respond to comments
More, depending on your website capabilities
Any edits to this website will immediately be live. Edit at your own risk.
WordPress Access URL: your-domain-here.com/wp-admin/
Access: Use the email, username, and password provided to you by Smart Inbound.
Smart Inbound uses Divi, a design tool built by Elegant Themes for WordPress. Your website is connected to Smart Inbound's Elegant Themes account, with a separate API key for your business.
Smart Inbound makes a copy of certain Divi files so we can make edits that will remain even when the master Divi theme is updated. You will see both the Divi Theme and the Smart Inbound Theme inside your WordPress settings. There is nothing you need to do here.
Smart Inbound uses a wide variety of security best practices. You can view them on our security page here:
You will often see a notification with a number of updates available in the WordPress menu. If you are using Smart Inbound Hosting and Support, do not worry about these updates.
If you are not using Smart Inbound paid ongoing support, update at your own risk.
Smart Inbound Hosting makes daily backups of your website: if something breaks due to a plugin or theme update, it is often easiest to load a backup. This means you should make plugin updates before any other large changes for the day.
Accessible in the WordPress menu under: "SEO"
Yoast is the #1 search engine optimization plugin. It adds an SEO dashboard in the WordPress menu, as well as an SEO module on the back-end of each page. Yoast SEO is used to:
Adjust how website pages display in search results
Submit a full sitemap to search engines
Request which pages or types of pages should be submitted to search engines
Redirect media URLs to the media itself
Help you write better blogs based around keywords for SEO
Accessible in the WordPress menu under: "Site Kit"
If you disable the Google Site Kit plugin, you will need to add the Google Analytics tracking code manually in: "Divi > Theme Options > Integrations"
With Google Site kit, you can:
Verify your business as the domain owner
Create and connect your Google Analytics account
See basic website traffic and content analytics inside WordPress
Connect to Google Search Console to improve search result visibility
Connect Google AdWords to monitor your ads
View site speed recommendations
If you do not already have a Google Analytics or Google Search console account, they will be created for you and attached to a Smart Inbound Google account during this setup process.
Google Analytics is the most popular platform for tracking website interactions. It works by placing a tracking code on every page of your site. You will need a Google account to access your data.
Google Analytics Location: https://analytics.google.com/analytics/web/
Access: Use your Google Account provided to Smart Inbound.
Google provides additional insights to improve your website through Google Search Console tools. It requires an account and a piece of code to verify that you are the owner of your website.
Google Search Console Access: https://search.google.com/search-console/about
Access: Use your Google Account provided to Smart Inbound.
Accessible in the WordPress menu under: "Settings > Antispam Bee"
Antispam Bee is a free Spam prevention plugin. Without this, you may start to receive a large amount of SPAM comments on posts. It is installed and configured on your website with basic settings.
Accessible in the WordPress menu under: "Tools > Redirection"
A redirect is when a user types in yourwebsite.com/page-name and is instead sent to yourwebsite.com/other- page-name. You will want to create URL redirects to:
Redirect old missing website pages to specific new ones
Redirect unused links to new ones
Create shorter links that redirect to longer ones
Create shorter links that redirect to attachments like PDFs
Accessible in the WordPress menu under: "Bloom" or in: Divi's Email Capture" Module
You may use an email marketing program like MailChimp, Constant Contact, ActiveCampaign, or another. Bloom is a simple plugin built by Elegant Themes to collect email addresses and send them to your marketing program. Your access to Bloom is included in Smart Inbound's Elegant Themes account. With Bloom, you can:
Create pop-up forms
Create inline forms
Created locked content forms
Create widget forms
Note that there is also an "Email" module inside the Divi Theme. That Email module can only be placed directly on a website page, but has more design options than Bloom.
Accessible in the WordPress menu under: "Plugins > ManageWP > Connection Management"
Smart Inbound may be using a tool called ManageWP to check-in with your site. This plugin allows the ManageWP platform to access your site. Nothing needs to be done with this plugin.
Accessible in the WordPress menu under: "Contact Form"
Your website may use Divi's standard Contact Form module. The Divi Contact Form Helper plugin expands the capabilities of this standard feature. It will allow you to save and manage form responses directly inside WordPress
Accessible in the WordPress menu under: "Dashboard" or "Settings > Simple History"
Many changes will be made to your website over time. Especially if you have multiple users, it may be important to track these changes. The Simple History plugin provides a log of:
WordPress updates
Plugin updates
Theme updates
Page updates
User logins
Setting changes
Comments
Accessible in a Divi builder contact form module: "Settings > Spam Prevention"
Public contact forms on a website are often attacked by spam. Some of these can be dangerous or vulgar. Google provides a free service called reCAPTCHA to prevent this. A reCAPTCHA has been added to your forms and is managed by Smart Inbound. If you would like to see the statistics, request access.
Flywheel uses a third-party service called SendGrid to send emails that come from your website. Because SendGrid specializes in email sending, messages have a much higher chance of being delivered and not ending up in someone's spam folder. 
Accessible in the Divi theme options: "Integration > Header Code"
You may use Google Adwords, Facebook, TikTok, Twitter, Reddit, or other advertising platforms. Many of these platforms give you a "pixel" or tracking code to install on your website for remarketing or analytics purposes.
Accessible in theme files under: "Appearance > Theme File Editor"
Smart Inbound will occasionally add custom PHP (a coding language) to your website in a file called functions.php. PHP is related to the functionality of your website. Each piece of code will be properly labeled with the date it was added and its purpose. Be extremely careful making edits to your theme files.
Accessible in theme files under: "Appearance > Customize"
Smart Inbound will occasionally add custom CSS (a coding language) to your website using the standard WordPress CSS editor. CSS is related to the look of your website. Each piece of code will be properly labeled with the date it was added and its purpose. Be extremely careful making edits to your CSS files.
Each time someone visits a web page, the browser must load all of the images. Images that are too large in size (greater than 750kb) can slow down your website. You also have a limited amount of space in your hosting storage plan.
The solution to this problem is image resizing and compression. Your images should not be larger than 2,000 pixels wide. If it is being used as a background or banner image, it should be at least 1,200 pixels wide. Smaller images can be used on the web page, but beware of low quality.
You can resize an image using the standard image viewing program on your computer. There is a "Resize" option in the Photos app on PC, and under "Tools > Adjust Size" in the Preview app on Mac.
After resizing an image, you should also compress it. Compression makes the file size smaller with a very minimal change in quality. Compression is essential to keeping your website fast.
You can compress an image using many different compression tools. You can access free online tools directly in your browser by searching "Compress Images Online" in a search engine. One option is:
On Mac, you can download a free app called ImageOptim that allows you to drag images onto an icon and compress them quickly and easily. Caesium Image Compressor is available for PC. Note that these options may have changed since this guide was written.
There are also paid WordPress plugins that can perform image resizing and compression for you. Discuss with Smart Inbound if you would like to explore these options.
Your website may be using the standard blog post layout created by WordPress, or a separate blog article template developed by Smart Inbound. In order to add a new blog article:
Use the WordPress menu to navigate to "Posts > Add New".
Add the title of your post.
Copy and paste your pre-written post into the body, or use the WordPress block editor. You can also use the Divi Builder and the "No Sidebar" page layout for a custom designed page.
Select a post category.
Set a featured image. Use a 4:3 or 16:9 ratio, and at least 1200 pixels wide.
Write an excerpt that will be shown as a blog preview and by search engines.
Modify any SEO settings if necessary.
Publish, or schedule to be published, when ready.
Smart Inbound gives you full administrative and design access to your website. Your team may want to make design changes. Please note that each page on your website was carefully designed with the same fonts, spacing, and colors. As your team makes edits over time, the website design quality can begin to degrade.
You can edit any page on your website using the Divi Builder tool. The best way to learn the Divi Builder is by reading the documentation provided by Elegant Themes: 
https://www.elegantthemes.com/documentation/divi/visual-builder/
Here is a quick overview to get you started. While logged in and viewing any page, select "Enable Visual Builder" in the top menu: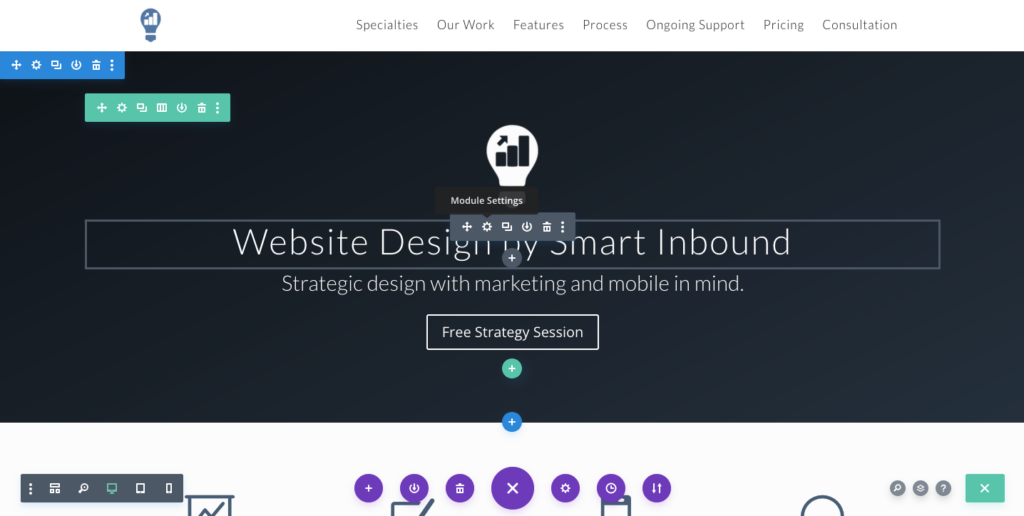 The Divi builder uses sections, rows, and modules.
Sections contain rows and modules. They control the background image and color, as well as spacing between other sections.
Rows contain columns. You can usually select between one and six columns. Rows can also have their own spacing and backgrounds.
Modules make up the content on your website. There are texts, images, icons, contact forms, and dozens more.
You can usually edit any section, row, or module by hovering over it and selecting the gear icon for "Settings". Here is an example of the settings for an image module: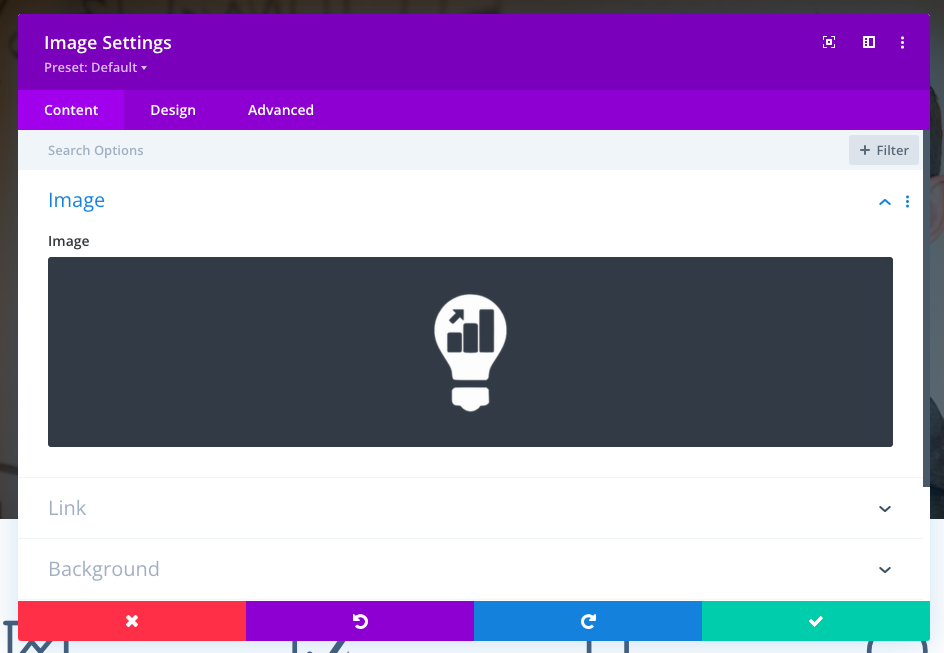 Inside the content tab, you can select the image, add a link, change the module background, and more settings based on the module you've chosen.
Inside the design tab, you can select the image size, spacing, color gradient, animations, and much more.
Inside the advanced tab, you can add custom CSS, IDs, and classes to the image.
Make sure you select the green checkmark to save your work with every module you edit.
When you have completed making your page changes, select "Save" in the bottom corner of the screen. You may have to select the three purple dots to expand the menu.
You can use the same menu on the bottom left to view your website in tablet and mobile view. Each module may have custom settings for every screen size, so you will need to adjust accordingly.
Your website will be delivered to you in perfect working order. Once a company starts to make edits and plugins begin to release updates, we can no longer guarantee perfection. Here are the options for support and updates.
Ongoing Support For Smart Inbound Work Only:
Included with Smart Inbound Hosting for $50 / month
All websites require updates and active management to remain functional and secure. Smart Inbound uses various tools to update and optimize your website on a monthly basis. This includes smart plugin updates, Spam removal, critical security updates, and bug fixes related to our work.
How support works:
We will check in with your site each month to make any necessary updates.
If you discover a website issue in the meantime, email support@smartinbound.com.
If the error is related to our changes, our standard plugins, hosting, theme updates, or our custom-written code, it will be fixed as soon as possible.
If the error is related to client changes, additional plugins, the WordPress ecosystem, or any outsourced development, Smart Inbound provides email support and may be able to offer a solution for an additional cost.
Design and Content Updates or Client Bug Fixes:
Available for $100 / hour
If there is a new content or design project that you would like to hand off to Smart Inbound, we will quote out these projects and receive approval through email.
Changing content or small design elements are fast 15-minute updates. Adding new features or additional pages may require multiple hours.
If the client has made design changes or added additional plugins that have caused an error, Smart Inbound will clock in to fix these issues upon request.
You will receive a quarterly invoice with clearly labeled hours sorted by project.
Custom Plugin Development Issues:
Available for developer rate and Smart Inbound project management fee of $100 / hr
We may decide together to create a custom plugin with a developer. Although this can take your site to the next level, it comes with some risks. The custom plugin will not have regular updates, potentially leaving it vulnerable to attack or bugs as the rest of the WordPress system evolves. The developer may exit the industry and be unavailable.
Smart Inbound will manage the initial custom development project and keep the developer's contact details. If the custom plugin breaks, Smart Inbound will get a quote from the developer for a fix (which may be free, depending on the developer's policies). If the developer is no longer in business, Smart Inbound may be able to source and quote another solution.