Website design by Smart Inbound Marketing.
TO FLORIDA VENTURE FORUM:
Thank you for the opportunity to work with you. After a preliminary review and a discovery session, we are in agreement that the site could benefit from a design overhaul. We created a few goals for this redesign project: 
1) Update and unify all design elements
2) Create modules and systems that allow FVF to update information 
3) Simplify some pages to allow for better marketing language and lead generation 
4) Reorganize some resources and content to make them more accessible
Smart Inbound Marketing is a specialized agency. We keep a small base of premium clients to ensure every customer gets the 1-on-1 attention they deserve. If we move forward on a project together, you will be given a timeline that ensures we don't have too many active projects at once. This helps us both. Communication through email is best, and please allow a few days for a detailed and thorough response. Emergencies will be handled immediately.
We will set milestones for our project to make sure you are happy at every stage. The client and agency should account for some back-and-forth brainstorming, clarification, and changes. This helps us build a better deliverable for you. Finally, we appreciate the long-term relationships we build. We are always available for advice, support requests, and small updates at no cost. You will receive priority in our timeline for larger projects as a repeat client.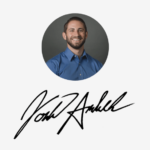 Thank you again, and I look forward to working with you.
FROM JORDAN JD ARBUCKLE
Lead consultant at Smart Inbound Marketing
"I completed this review before our discovery call, and chose not to revise it just in case it sparks anything else from you. Looks like I was on the same page, for the most part." – JD
OVERALL DESIGN STYLE
C
Often a website like this is consistently updated over time by multiple departments to achieve different goals. This can create many small issues that add up to a much messier look than intended. There are text formatting, images, spacing, and design elements that do not match or are now outdated. However, the site still functions effectively. There does not seem to be anything "broken".
BRANDING
A
There is a consistent use of colors, fonts, and logos across the site. Some places could use less of the primary color and focus on neutral tones. Very few assets are out of place.
LAYOUT
B
The home page needs simplification. Other pages could benefit from a similar template to help the user feel comfortable. The sitemap and menu may be better organized, based on our discovery conversations.
CONTENT
B
There are plenty of helpful resources and information about FVF. Perhaps they can be more accessible. Some things, like the membership benefits graphic, would be better explained in a "sales-page".
FEATURES
TBD
A discussion needs to be had about fvf.memberclicks.net and flventure.org here. This may be the primary reason for a new website request. Let's find the best route. 
SEO
B
Florida Venture Forum is set up correctly regarding meta data. It is also ranking for a few search terms like "venture capital in Florida". Access to additional analytics and content insights are required here.
SPEED
D
According to GT Metrix, there are many key places this website needs to be optimized for speed and accessiblity. We will take a deeper dive on these opportunities in our next steps. 
MID-NOVEMBER THROUGH MID-DECEMBER, 2021
WEEK 1
Final strategy
Onboarding
Tech setup
Initial design
Week 2 - 3
Home page review 
Revisions 
Page tempate work
Content reorganization
Week 4 - 6
Page template review
Final Revisions
Speed work
Relaunch
Project costs are estimated by the hours required. If the project extends past 120% of the allocated hours, the client and Smart Inbound will renegotiate the scope of work or investment spend.
WEBSITE DESIGN FOR FLORIDA VENTURE FORUM
Investment (50% down, 50% on completion):
Onboarding and tech setup

Homepage and design module development 

Additional page templates (3-5)

Content reorganization

Plugins and speed work

Review sessions 1-3

Launch and follow up

Ongoing support and changes*

*Monthly technology updates are included if our hosting provider is used.

Content and design updates are billed at $100 an hour.
Provided by Smart Inbound Marketing.
Your Consultant:
Jordan JD Arbuckle
502 E Main St, Lakeland FL 33801
jd@smartinbound.com
(612) 206-4320