Inbound Marketing for Keller Williams Teams
Services for long-term brand success.
TO RAINMAKERS, TOP PRODUCERS, AND TEAM LEADS:
My name is Jordan (or just JD) Arbuckle, the lead consultant at Smart Inbound Marketing. I've worked within the digital and inbound marketing sphere for 10 years. I've also partnered with multiple Keller Williams teams.  
We've chosen to work exclusively with Keller Williams because we truly respect the brokerage. The "agent as a business" and the profit sharing model are all philosophies we agree with. The rest of this proposal will contain inbound marketing strategy, services, examples, and investment costs specifically for real estate.
Inbound marketing is not for teams that want to farm leads as fast as possible. Our services are meant to build your brand up as the #1 thought leader and real estate group in your area. Over time, your target market will choose your team because you've helped them become healthier individuals and better homeowners.
Smart Inbound Marketing is a specialized agency. We keep a small base of premium clients to ensure every customer gets the 1-on-1 attention they deserve. If we move forward on a project together, you will be given a timeline that ensures we don't have too many active projects at once. This helps us both. Communication through email is best, and please allow a few days for a detailed and thorough response. Emergencies will be handled immediately.
We will set milestones for our project to make sure you are happy at every stage. The client and agency should account for some back-and-forth brainstorming, clarification, and changes. This helps us build a better deliverable for you. Finally, we appreciate the long-term relationships we build. We are always available for advice, support requests, and small updates at no cost. You will receive priority in our timeline for larger projects as a repeat client.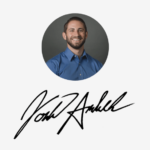 Thank you again, and I look forward to working with you.
FROM JORDAN JD ARBUCKLE
Lead consultant at Smart Inbound Marketing
The inbound marketing process involves reaching new people with eye-catching advertisements, delivering them high quality educational content, engaging them with more information about the brand, offering your specific solution, and maintaining the relationship.
First, we will first create a few customer profiles: detailed dossiers on the home buyers and sellers we want to attract. We'll need to discover their top problems, internet searches, and online behaviors. This has often already been taken care of in real estate, but your local community will have some unique features that should be taken into account.
Then, we'll need to develop some premium content pieces based around those customers. It's best to have at least one or two pieces ready by launch, and the database will continue to grow over time. Some of the pieces will live behind landing pages, available for download in exchange for contact information.
Collected contacts should be put into a CRM and email marketing funnel that continues to provide helpful information. We want to make sure that leads are not just receiving new listings and sales calls-to-action. Usually a real estate team already has an extensive email marketing program in place, so we will integrate our campaigns to match the current setup. 
Next, additional social, photo, and templated video content will be developed to increase your brand awareness, educate your target market, and drive traffic to your website.
Ongoing advertising campaigns will be placed on social networks and other places our customers may spend time. The goal of these may be expanding the reach of our content or immediately collecting lead information (if our call-to-action is attractive enough).
Finally, we will check in on key analytics each month. Inbound is a foundation that generates exponential results over time. We may learn that that our Facebook ad drives traffic above industry average, but our landing page conversion rate is too low. This means the next month should be spent on optimizing landing pages.
STRATEGY
All first month, then monthly reviews.
Spending an appropriate amount of upfront time on target market research and content development is essential to our success. There may be opportunities in your specific community over and above general real estate content.
CONTENT DEVELOPMENT
1 piece per month (2 on first month).
Examples of premium content include a high quality blog post, a downloadable tool, or a templated video. We will create 2 initial pieces of content upon launch, and then continue to build the library over time. 
PAID DISTRIBUTION
2-3 ongoing campaigns.
Based on our current goals, we will run campaigns (awareness, video views, lead generation, etc.) on the networks that fit real estate and your team the best: Facebook, Instagram, TikTok, Hulu, or an emerging platform.
SOCIAL CONTENT
1-2 social posts per week.
We take an inbound approach to social media, which means long-form, higher quality, educational posts. We recommend an in-house employee to supplement this schedule with in-person content, or to field customer questions.
WEBSITE DESIGN AND SEO
Page design and changes as needed.
Many real estate teams use pre-built website providers, like BoomTown. We work closely with those support teams, or create alternate website design solutions that can be used specifically in our inbound marketing efforts. 
ANALYTICS
Monthly review and adjustments.
Inbound marketing involves plenty of data analysis: reach, engagements, conversion rates, video views, and more. We will monitor the numbers to balance short-term improvements with long-term success.
Inbound marketing is foundational brand-building that brings in exponential results over time. Some can be directly tracked, like a lead form Facebook ad. But eventually, a company should see an increase of visits, leads, and sales across multiple sources: word-of-mouth, search engines, social media, contact forms, and phone calls. Here is a general timeline of a 6 month inbound campaign.
MONTH 1
Strategy sessions
Onboarding
Customer profiles
Platform optimization
Content creation
MONTH 2-3
Content launch
Advertising launch
Social media launch
Testing and adjustments
Content creation
MONTH 4-6
Optimization
Scaling successes
New ad channels
Strategy review
Content creation
Project costs are estimated by the monthly hours required. If the project extends past 120% of the allocated hours for multiple months, the client and Smart Inbound will renegotiate the scope of work or investment spend.  
INBOUND MARKETING FOR KELLER WILLIAMS TEAMS
Campaign investment, not including advertising spend:
Strategy (All first month, then monthly reviews.)*

Onboarding and technical setup (Initial month.)

Paid advertising campaigns (2-3 ongoing campaigns.)**

Landing pages (As needed.)

Content creation (1 premium pieces per month, 2 in first month.)

Social media marketing (2 social posts per week.)

Ongoing analytics (Monthly monitoring.)

*Additional $750 required for extra setup in first month (no ad spend). 
**Additional ad spend applies. Reccomended $500 – $750 per month.
Provided by Smart Inbound Marketing.
Here's to smarter marketing.
Your Consultant:
Jordan JD Arbuckle
502 E Main St, Lakeland FL 33801
jd@smartinbound.com
(612) 206-4320