 Website Design by Smart Inbound
Strategic design with marketing and mobile in mind.
Designed by Marketers
Your website is one of your most valuable assets. We use our marketing background to ensure your website meets your strategic goals.
Strategically Planned
We spend significant time researching your target market, outlining every page, writing powerful content, and building a site that lasts.
Mobile Optimized
50% or more of your website traffic will likely come from mobile. We ensure your site is just as beautiful and functional on mobile devices.
Ongoing Support
For a low subscription, we monitor site security, update plugins, clear spam, provide email support, and fix any unforeseen errors.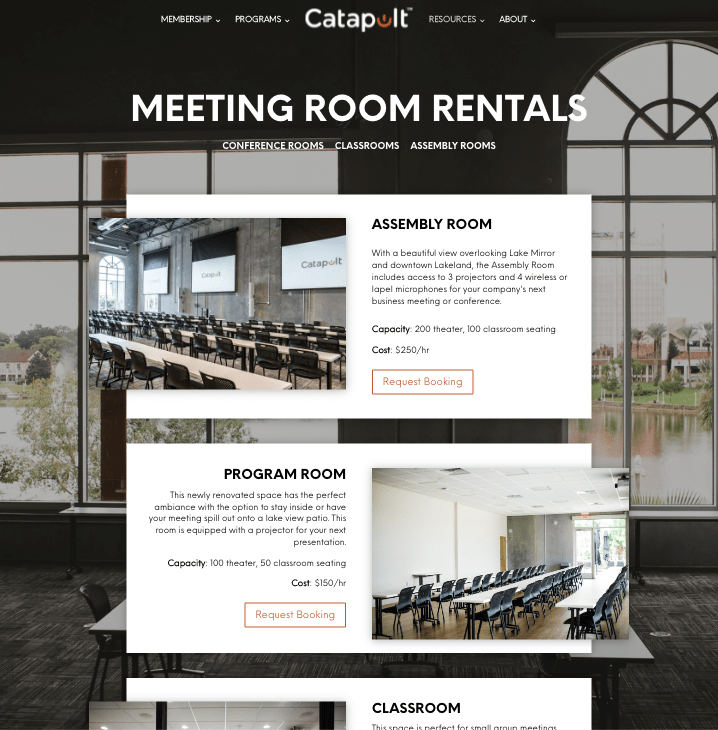 We focused on beautiful imagery, an inspiring feel, and storytelling with this  progressive coworking space.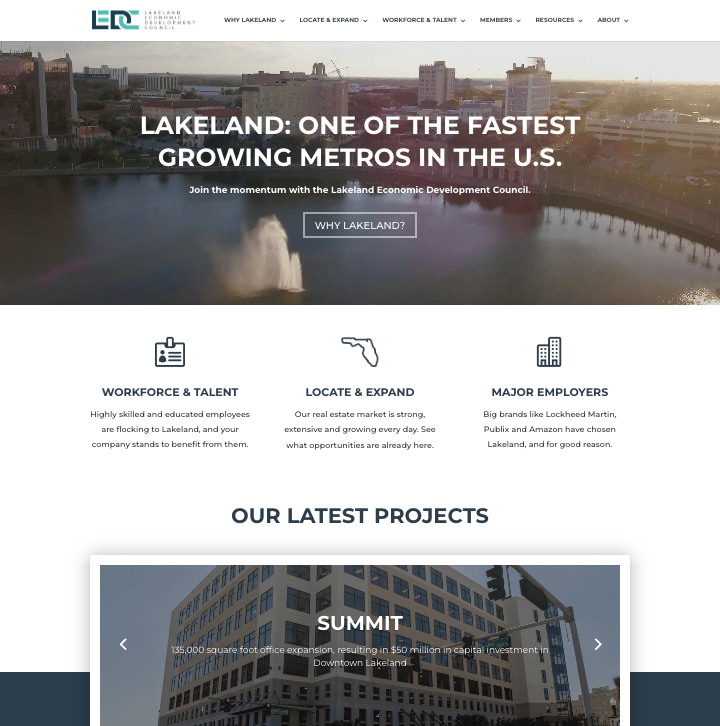 We focused on professionalism and the quality organization of information with this economic develoment council.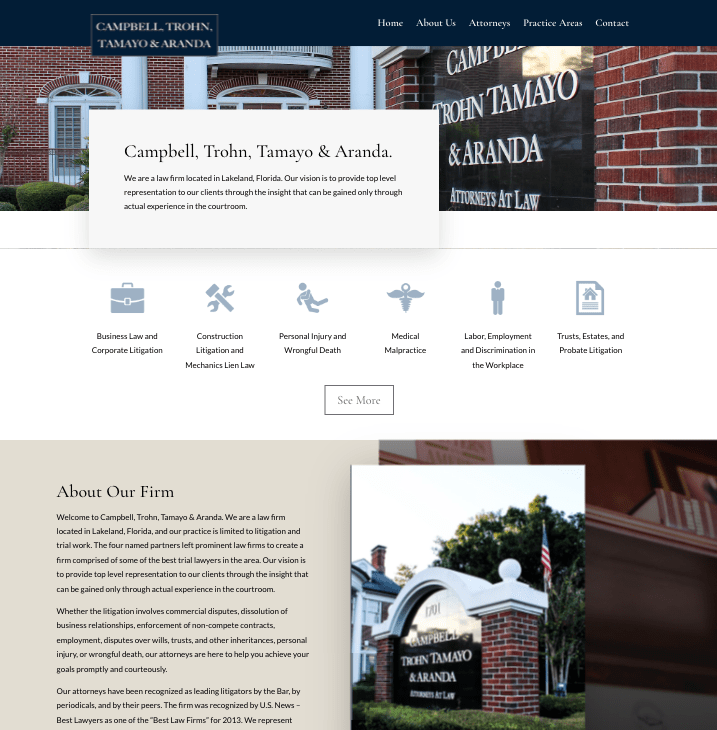 We focused on trustworthiness, classical branding, and simplified navigation with this multi-functional law firm.
Our Design Principles
1. Simplicity is perfection. Our sites use straight lines, distinguished sections, and powerful imagery.
2. Websites are for the user, not the company. We focus on ease-of-use and simple navigation over flashy design.
3. Communicate effectively. Each page has a purpose. "What is this, why is it for me, and what should I do next?"
FlyWheel Hosting
FlyWheel is a fast, secure, and user-friendly hosting platform with nightly backups and excellent support. The client owns the hosting account and gives Smart Inbound access. Hosting packages average $20 a month or less.
Wordpress Platform
Wordpress powers 43% of all websites currently online. It has a worldwide development community and a multitude of well-documented and tested plugins to unlock additional features. There is no cost for Wordpress. 
Divi Design Tools
Your custom theme is designed using the Divi Builder. It's powerful, fast, and easy for clients to use. Access to Divi updates and their support staff is currently provided by Smart Inbound at no additional cost.
Standard Plugins
Using trusted Wordpress plugins or custom code, we enable: analytics, search optimization, spam protection, link redirection, email marketing, social sharing, remote updates, and additional PHP functionality.
Search Optimization
Proper SEO involves site speed, page structure, meta data, keyword management, and connections to social and Google Maps profiles. We SEO optimize at every turn.
Email Marketing
We will set up an email marketing platform or integrate your current one into landing pages, contact forms, and other places relevant to lead capture.
Analytics Dashboard
Every website should be collecting analytics data from the start. We install Google Analytics and kick your team off with a simple dashboard to pull relevant metrics.
Team Training
We will provide website documentation and a training session with team members who might want to make updates, write blogs, or manage the features.
Social Media Integration
Social media users should be driven to your website, and vice-versa. Besides just adding links, we provide site-wide sharing and following tools to increase your reach. 
Photo and Video
We can hire photographers and videographers (if local) to capture new beautiful visuals for your site. Quality stock imagery and your past visuals can also be used successfully.
eCommerce
Setup involves building pages and products, payment processes, email functionality, order management, and user accounts. We take care of it all in detail.
Advertising Integration
If you plan to run paid advertising, we can add specific tracking pixels onto your website immediately so they can begin collecting data for retargeting.
A Content Partnership
We need your help with detailed information about your business, products, and services. Smart Inbound will take care of the short, bold marketing language and ask for feedback.
The Content Document
During project launch, you will receive a document that outlines every piece of written content we need, including advice on the length and format of each segment. You'll have plenty of time to work on it.
Our Content Revisions
We will take your written content and revise it into something that the target market can easily understand. We may also recommend additional content that will improve the strength of your website.
Phase One: Design
Start content collection
Home page design
V1 review
Page template design
V2 review
Phase Two: Content
Reviewing written content
Adding written content
Collecting photo and video
Adding visual content
V2 review
Phase Three: Features
Standard plugin setup
Custom requirements
Search optimization
Feature testing
V3 review
Phase Four: Launch
Updating documentation
Website use training
Ongoing support setup
Website launch
Final delivery
Optional Support Package
All websites require updates and active management to remain functional and secure.
Smart Inbound uses various tools to update and optimize your website on a monthly basis.
Includes email support, bug fixes, monthly smart plugin updates, Spam removal, and critical security updates. Bill is included in your monthly FlyWheel payment.
Smart support: $100 / month
How Support Works
If you discover a website issue, email support@smartinbound.com.
If the error is related to our changes, standard plugins, hosting, theme updates, or our custom-written code, it will be fixed as soon as possible.
If the error is related to client changes, additional plugins, the Wordpress ecosystem, or any outsourced development, Smart Inbound provides email support and may be able to offer a solution for an additional cost.
Design and Content Updates
If there is a new content or design project that you would like to hand off to Smart Inbound, we will quote out these projects and receive approval through email.
Changing content or small design elements are fast 15-minute updates. Adding new features or additional pages may require multiple hours.
You will receive a quarterly invoice with clearly labeled hours sorted by project.
Support client rate: $100 / hour
Basic
General estimation:
Discovery session

5 – 10 pages

3 – 5 custom page templates

Custom photo and video*

Four-revision process

SEO optimization

Email marketing integration

Analytics integration

Team training

Ongoing support*

*Additional fees may apply.
Standard
General estimation:
Discovery session

10 – 20 pages

5 – 10 custom page templates

Custom photo and video*

Four-revision process

SEO optimization

Email marketing integration

Analytics integration

Team training

Ongoing support*

Custom plugin needs*

Additional integrations*

*Additional fees may apply.
Advanced
General estimation:
Discovery session

20 – 30 pages

10 – 15 custom page templates

Custom photo and video*

Four-revision process

SEO optimization

Email marketing integration

Analytics integration

Team training

Ongoing support*

Custom plugin needs*

eCommerce integration*

Customized requests*

*Additional fees may apply.
Enter your details below. Let's build something great together.
501 E Main St
Lakeland, FL 33801
(863) 692-6079
connect@smartinbound.com